The right man to take Arsenal into a new era!
Unai Emery has done more than a commendable job in his first season as the new Arsenal boss. Currently above Manchester United and Chelsea, they look most likely to finish in top four in the English Premier League this season. The Gunners could overtake Tottenham in third place should they win tonight's match against Everton.
Who would have thought this would be what the table would like back at the start of the season. The signings he made were spot on. Four players were brought in and all of them have become integral parts of the squad.
Lucas Torreira is like a pint-sized warrior. He has never been scared to get physical with opposing players and goes into every tackle almost knowing that he will come out of it with the ball. His first goal for the club against Spurs has already made him a fan favourite and the celebration showing just how much it meant to him.
Bernd Leno has now become the team's first choice ahead of Premier League royalty Petr Cech. The German keeper is god on the ball with his feet and he has enabled Emery to inculcate his philosophy and brand of football on this side.
Sokratis has been an absolute rock in Arsenal's defence since his arrival. As good as Koscielny has been over the years, his body is just not able to take it anymore with far more frequent injuries has left a massive hole in the defence. Sokratis has taken over the mantle of being the leader in the backline and he has been almost faultless this season.
Matteo Guendouzi has often been named in the starting eleven and this goes to show how superb he has been. Picking him up from the French Second division meant Emery really knew what he wanted and boy has he delivered. The 19-year-old has been great whenever he is on the field and is definitely one for the future.
That being said Arsenal still do have gaps in their team that they will have to fill in order to be thought of in the title race for 2019/20 season.
#3 Ryan Fraser
The perfect winger for Emery's system
Ryan Fraser has almost single-handedly dragged Bournemouth to a strong mid-table finish. His partner in crime Callum Wilson has dovetailed with the Scotsman perfectly, knowing where to be so that Fraser could find him.
His underlying statistics show that this is no flash in the pan, one season wonder. Over the course of the season, he has been consistently creating chances for his teammates from out wide. Six goals and 10 assists this sees him as one of the contenders for the Playmaker of the season award, just two assist shy of the phenomenal Eden Hazard.
This season he has created the most number of clear goalscoring chances with 22, followed by Hazard considerably behind with 15. This shows that in a side with more clinical strikers, he could have had almost double the assists he has. He has averaged over 2 key passes and taking 1.5 shots per match. This is along with winning 2 fouls and losing the ball under once a game. It really shows a really well rounded hard-working winger.
This is a position Arsenal has been struggling to fill since a while now. As good as Alex Iwobi is, Arsenal can't really look to compete for the Premier League with him as the senior winger in the side. A frontline with Fraser, Aubameyang and Lacazette would be something that would get Gunners excited.
He would be great going both ways, his numbers in the attack are better than any forward from teams other than the big six teams. He has been playing consistently well and deserves a move to a team can have a go for some serious silverware.
#2 James Tarkowski
A long-term defensive solution
As good as Arsenal has been going forward, they have been just as leaky in defence. Shkodran Mustafi is just not cut out for it, while Sokratis can't fend off attacks all by himself. The perfect partner for him would be Burnley defensive general, James Tarkowski.
This season in the league alone he has averaged 3.2 tackles and interceptions along with an astronomical 6.6 clearances per match. This might be down to the fact that Burney sits deep and defends in numbers. Going forward, he is pretty good as well. He makes around 34 passes per game along with 3.3 accurate long balls per match. This shows that although he doesn't have the ball for long spells of the game, he knows what to do when he does have the ball at his feet. He has also chipped in with 3 goals and an assist again showing that in a better team he does have the underlying numbers to be the best.
A tall, strong, ball-playing defender who is good in the air as well is what Arsenal need to fully immerse themselves in Emery's free-flowing, expansive football. Valued at £15 million he would be an astute signing that will solve a lot of issues as well as allowing the club to invest elsewhere in the squad. In addition, at 26 years of age, he could form a good partnership with Rob Holding when the latter returns from his long-term knee injury next season.
#1 Pablo Sarabia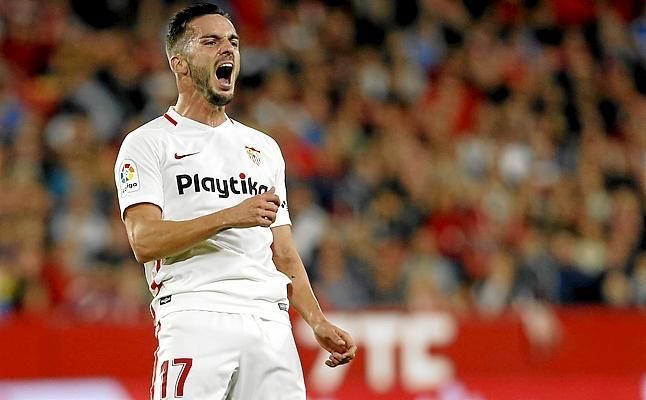 The ideal no10 in Emery's system
Sevilla man, Pablo Sarabia, has been very impressive this season. 11 goals and 10 assists in the La Liga show his consistently good performances. Aaron Ramsey already on his way out while Ozil's future looks uncertain at the moment as his huge wages and lack of impact on the team may see him leave the Emirates as well. Sarabia will be the perfect creative player on the side behind the likes of Aubameyang and Lacazette.
Dovetailing with the likes of Andre Silva and Ben Yedder, he would slot into Emery's system perfectly. The former Real Madrid youth player is not only creative but also works hard for the team. He will drop back, follow his man and win the ball back to start quick counters. He could well be the ideal replacement for the departing Ramsey.
He currently takes 2.2 shots per match while also laying off 2.1 key passes for his teammates. Also, he makes great use of the ball when he has it and loses it only once a match, which is outstanding given the advanced positions he takes up on the field. This season he has created the second most number of clear goalscoring chances with 13, behind only Leo Messi.
Valued greatly by his current club, he would be a statement of intent from Arsenal that they no longer will target just finishing in the top 4 but actively compete for titles.