Shokdran Mustafi.
Arsenal has been linked with a ton of players in this transfer window, like always, but the major problem is that the current Arsenal squad have plenty of deadwood, and before bringing in reinforcements, the board must look to axe the players not good enough to play for the club.
The season ended disastrously for the Gunners, as Unai Emery's men only requiring two wins out of the last six league games to qualify for Champions League football, managed to win only one. Losing 3-0 to Leicester City, 3-1 to Wolves, and 3-2 to Crystal Palace at home cost them a UCL berth.
There certainly is a lack of quality in some positions, notably center-back, but the amount of inconsistent players in the squad is massive. With a budget of 45 million, there is not much Emery can do, but still, let's take a look at some of the players likely to leave Arsenal this season and a couple of players who might join the Gunners as well.
#3 Shkodran Mustafi
Shkodran Mustafi has fallen out of favor with the fans.
Shkodran Mustafi is certainly not a current fan favorite, and is placed on top of the transfer list. According to one of the most reliable journalists, David Ornstein, Arsenal have tried to sell Mustafi almost every transfer window, but have never received any firm offers from any clubs.
However, according to certain, unconfirmed reports, Fenerbahce want to take Shkodran Mustafi on a one-year loan. Fenerbahce sporting director Damien Comolli is set to meet with Arsenal officials next week over the potential transfer.
A loan deal might suit both parties as Arsenal will have a spot clear for a new center-back signing and Mustafi can probably improve his decision making and can stay away from some incensed Gooners.

Carl Jenkinson.
As we all know, Arsenal is heavily linked to Celtic's most-coveted asset Kieran Tierney. The 22-year-old left back is valued at £25 million and the Gunners are highly interested in bringing him to the Emirates this summer, but they are yet to strike a deal with the Scottish-treble winners.
Celtic are holding out for a £20million-plus straight cash fee for Tierney and Arsenal are trying to drive the price down, but it seems imminent that Emery and Co. would reach an agreement with Celtic in the coming days.
But latest reports say that Arsenal is happy to include Carl Jenkinson in the deal, as Celtic look to revamp their back four for the upcoming season. The English man earns nearly 45 grand a week and it's obvious he will have to take a massive pay cut, reportedly a cut of 35k, to join Celtic.
On the other hand, if any deal with Wilfried Zaha materializes, Arsenal will look to include Jenkinson as Roy Hodgson is in search of a new right-back as a replacement for Aaron Wan Bissaka, who joined Manchester United for £51 million.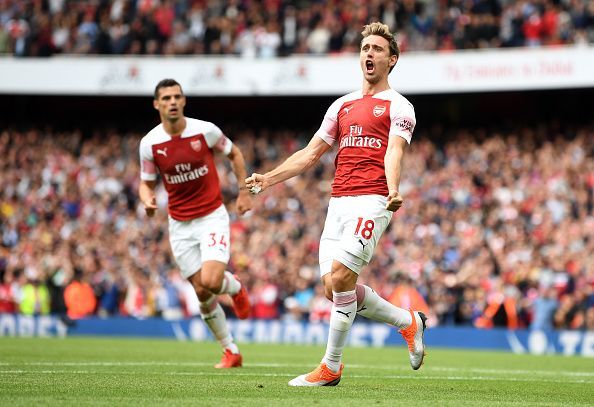 Nacho Monreal has been a faithful servant of the club.
Nacho Monreal has certainly been one of Arsenal's most consistent defenders in recent years and is still a very good squad player, but age is catching up with him and Arsenal might look to part ways with the 33-year-old Spaniard.
Some reports suggest Celtic left-back Kieran Tierney, a player highly rated across the globe, is heading for Arsenal. Napoli and Arsenal are in the race for his signature as well,but apparently, it's Arsenal who have the edge over the Serie A club in their quest for Tierney.
If Tierney arrives, Monreal would be the player who is likely to leave as Sead Kolasinac is younger and was clearly Emery's first choice left back in most of the games. Arsenal probably would not get a good sum for Monreal's services as none of the clubs has shown a strong interest in him, and the Spanish left-back will likely get his contract terminated.